Bewertung: 11.25
Anzahl Bewertungen: 4
13
Guybrush
lustiges Western-Abenteuer mit passender Comic-Grafik, einfacher Steuerung und gut gewählten Sprechern.
8
stzla

13
Emil

11
mexx-x
Der Nachfolger von "3 Skulls of the Toltecs" (der übrigens in der Westerner-Box als Bonus auf einer Extra-CD auch mit ausgeliefert wurde) hat eine deutlich verbesserte Grafik gegenüber seinem Vorgänger. Der Humor ist ziemlich gleich geblieben und die Rätsel sind durchweg fair und logisch.
Es gibt auch ein paar kleine Action-Einlagen, die man leider nicht umgehen kann, und die ich teilweise auch gar nicht so einfach fand. Mit Übung kriegt man das aber auch hin. Im Übrigen passen diese Einlagen (auch wenn ich kein Fan davon bin) trotz allem ganz gut und stimmig ins Spiel. Ist halt ein WildWest-Abenteuer und da muss halt auch mal geschossen werden. Insgesamt ist es aber schon als reinrassiges Adventure zu betrachten. Insgesamt ist sie Story nett und die Steuerung gelungen. Einzig die Tatsache, dass man sein Pferd das ganze Spiel über mit immer wieder mit etwas Eßbarem versorgen und dazu ständig zur Ranch zurückreiten muß, ist auf Dauer doch etwas nervig. Das hätte man sicher besser lösen können.

Alles in allem ein Spiel, das ich empfehlen kann und sehr viel Spaß macht und wenn man den Vorgänger auch noch dazunimmt einem wirklich eine lange Spieldauer beschert.
GAB - was ist das?

Alle Adventures
Einzelbewertungen

Ich will auch mal!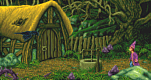 Noch mehr Adventure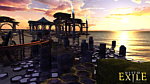 Mithelfen