Bewertung: 4.00
Anzahl Bewertungen: 1
4
Andreas Brosche
Abgedrehtes Adventure im Stile dieser US-Toiletten-Cartoons. Eine Alien-Familie verschlägt es auf dem Weg in den Urlaub auf eine irdische Müllkippe. Ziel ist es, da wieder wegzukommen.
Der Weg auf den Heimatplaneten ist gepflastert mit teilweise recht unlogischen Rätseln und Pixeljagden. Ausserdem ist das Spiel so fehlerhaft, dass man unter Umständen an Gegenstände im Inventar nicht mehr rankommt oder das Spiel abstürzt, wenn die CD sich nicht mehr dreht...
Lässt man die Pixelhunt-Puzzles mal weg, bleibt auch nicht viel über. So wenig Adventure auf 3 CDs - das gibt mit viel Augenzudrücken noch 'ne 4-. Wer Cow and Chicken oder ähnliches mag, kann sich Down in the Dumps ja mal ansehen. Dieser Titel ist definitiv Geschmackssache. Mein Fall war es nicht.
GAB - was ist das?

Alle Adventures
Einzelbewertungen

Ich will auch mal!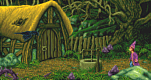 Noch mehr Adventure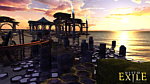 Mithelfen